It is wet, muddy and raining today and i'm in heaven. We went away for the easter weekend leaving piles of snow that refused to melt to drive 6 hours north of Oslo to a place called Oppdal for a few days in the mountains to ski and to spend time with family. It was stunning and heaven to have some sun and to get the last possible few days of skiing in, not to mention some time with my husband and son. But after a winter of snow (5 months of snow on the ground) i am leaping for joy at the sight of brown earth on our return from the mountains. FINALLY the snow has melted. No matter that it is raining and the ground is muddy, i can actually see the earth and it feels soooo good. I have just come back from a run delighting in being able to feel the earth beneath my feet along muddy paths through the parks and then down eventually to the river and into the forest. The water in the river was surging down over the rocks and boulders swollen to almost double its normal size with all this snow melt water, unlike the quiet months when it was frozen, yet mesmerisingly beautiful.
All we need now is for it to warm up a little and then we can leap into the lakes and get swimming.
Swimming in the lakes and fjords in and around Oslo has been one of the most amazing things about living here in Norway. There are a whole host of clean fresh water lakes with sandy beaches as well beautiful places to swim in the Oslo fjord from the mainland or from one of the many islands where it is common to see people picnicing and barbequeing in the summer. Sophie Cooke wrote a wonderful
article
about wild swimming in the north of Norway which is worth a read: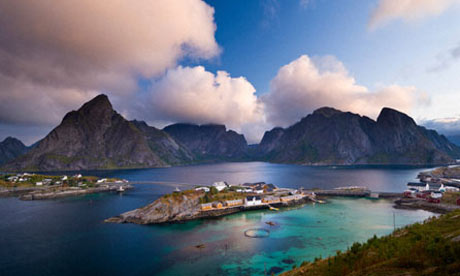 As a child we always swam in local rivers, lakes and when we got the chance in the sea, even as early as february, if there was water we would swim in it. There is nothing that can compare to swimming in natural waters. Swimming in chlorinated pools can never compare.
There is a great book called
"Wild Swimming" by Daniel Start
about swimming in wonderful little known natural places in Britain. It maps out perfect bathing places in the lakes and rivers in the UK with the most stunning photos to accompany the descriptions. In may 2009 a
"Wild swimming coast" book
came out It is pure heaven just to look through these books and delight in these natural places.
Now that the ice and snow has melted what am i waiting for?