The power of a visual image.
Shirin Neshat
is an Iranian visual artist who lives in New York and is known mainly for her work in film, video and photography. She was born and raised in Iran but moved to the U.S. after high school to study art. When the Islamic Revolution overtook her homeland in 1979, Neshat was exiled and couldn't return until 11 years later--and the country she went home to bore little resemblance to the one she left.
Neshat dealt with her sense of displacement by trying to untangle the ideology of Islam through art. The result was Women of Allah (1993-97), a photographic series of militant Muslim women that subverts the stereotype and examines the Islamic idea of martyrdom.
In her own words: 'Women assist men by taking charge - not dominating - the private space so as to nurture a family and raise decent Muslims. Furthermore, when a woman crosses into the public domain
she enters a male space (….) Therefore she must respect male codes of behaviour. These codes are based on men's need to concentrate on social and religious responsibilities without the interference of personal or domestic affairs…while in public space, a woman must be contained, silent and invisible. In other words, she must be "veiled"… During the Iranian Revolution, in which Iranian women revolted against "oriental" stereotypes, the veil became a form of political protest, as a way to identify with Islamic values and a rejection of the Westernising process instated by the Shah. In 1978… we began to see images of proud militant Muslim women carrying heavy machine guns. These representations were powerful
and shocking, and definitely shattered the classical western image of Muslim women as weak
and subordinate'. Exerpt from Octavio Zaya, "Bounds of Desire, Zones of Contention, A Conversation Between Shirin Neshat and Octavio Zaya" Voiceovers, 5th Guinness Contemporary Art Project, Curator
Victoria Lyn, Art Gallery of New South Wales 1999, p. 39
In 1996, Neshat began working with film, eager to create more poetic, open-ended works. She produced a trilogy of split-screen video installations--
Turbulent
(1998), Rapture (1999) and Fervor (2000)--all sumptuously filmed meditations on the male/female dynamic in Islamic societies. Her work refers to the social, cultural and religious codes of Muslim societies and the complexity of certain oppositions. She often emphasises this theme by showing two or more coordinated films concurrently, creating stark visual contrasts through the use of light and dark, black and white, male and female. Shirin Neshat has also made more traditional narrative short films, such as her recent work,
Zarin
. I find her films and photography to be incredibly powerful, intense and moving.
In her work Shirin Neshat addresses the social, political and psychological dimensions of women's experience in contemporary Islamic societies. Although she seems to actively resist stereotypical representations of Islam, her artistic objectives are not explicitly controversial. Rather, her work recognizes the complex intellectual and religious forces shaping the identity of Muslim women throughout the world.
Rapture
, production still, women scattered 1999. Photo: Larry Barns.
As a photographer and video-artist, Shirin Neshat received recognition for her brilliant portraits of women entirely overlaid by Persian calligraphy, notably through the
Women of Allah series 1994
:
But Neshat's recognition became more international in 1999, when she won the International Award of the XLVIII Biennial of Venice with films
Turbulent
and
Rapture.
Turbulent,1998, is a two screen video installation in which two singers (Shoja Azari playing the role of the male Iranian vocalist and composer Sussab Deyhim as the female) create a powerful musical metaphor for the complexity of gender roles and cultural power within the framework of ancient Persian music and poetry
.
With
Rapture 1999
, Neshat tried for the first time to make pure photography with the intent of creating aesthetic, poetic, and emotional shock.
Her first feature film
"Women Without Men"
is Shirin Neshat's independent film adaptation of Shahrnush Parsipur's magic realist novel. The story chronicles the intertwining lives of four Iranian women during the summer of 1953; a cataclysmic moment in Iranian history when an American led, British backed coup d'état brought down the democratically elected Prime Minister, Mohammad Mossadegh, and reinstalled the Shah to power. It contrasts the political drama of the time with the complexities of the women's intimate lives making for an imaginative and emotional film that engages us on myriad of levels. Watch the trailer and find out more about the film
here
or perhaps read this
interview
.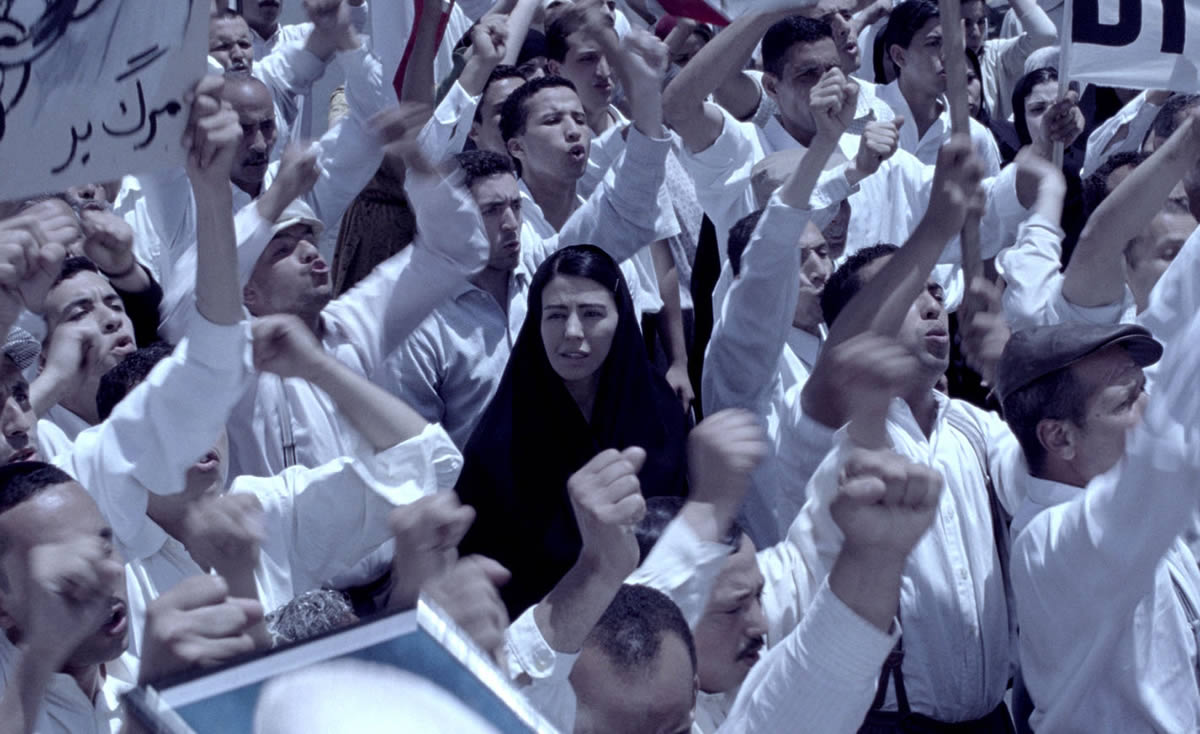 Still from the film "Women Without Men" 2008
Shirin Neshat speaks
here
about Iran's Green Revolution, the protests following the 2009 Iranian presidential election
against the disputed victory of Iranian President Mahmoud Ahmadinejad
and in support of opposition candidate Mir-Hossein Mousavi
occurred in major cities in Iran and
around the world
starting on June 13, 2009. The protests were given several titles by their proponents including the
Green Revolution
,
Green Wave
or
Sea of Green
, reflecting presidential candidate Mousavi's campaign color, and also the
Persian Awakening
.
It is clear that through Shirin Neshats work she is making a huge contribution to changing stereotypical attitudes and views about the muslim community.