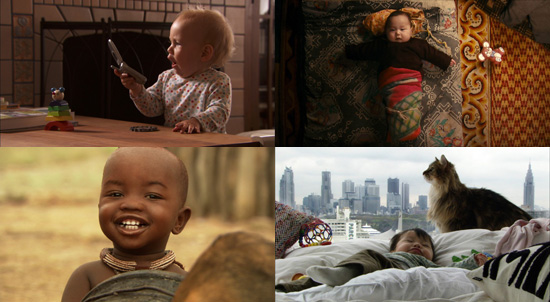 I absolutely love the trailer for the visually stunning documentary film
BABIES
,written and directed by Thomas Balmes. A father of three young children himself he wondered, "How do babies in vastly disparate cultures do this differently in their first year of life?". The film simultaneously follows four babies around the world - from first breath to first steps. The children are, respectively, in order of on-screen introduction: Ponijao, who lives with her family near Opuwo, Namibia; Bayarjargal, who resides with his family in Mongolia, near Bayanchandmani; Mari, who lives with her family in Tokyo, Japan; and Hattie, who resides with her family in the United States, in San Francisco. BABIES joyfully captures on film the earliest stages of the journey of humanity that are at once unique and universal to us all.
.
Thomas Balmes says that "The idea was not to pick families in poor countries, but families in countries that are different in their level of technology," says the director, 40, who lives in Paris. "I chose families that were happy, and who were positive about the arrival of a baby."
"Everything we do [in the Western world] is not the only way," says Balmes. In fact, there are downsides to our ways, as the film shows: we might overstimulate babies with too many toys; we might ignore them during play by talking on our cell phones and not being present to them. If there is one main theme, he says, "It's that we can see how kids do well with very little," when it comes to material goods, like toys -- or even a parent's constant hovering presence. These babies are endlessly interested by what is around them -- an insect, a breeze, a puppy's tongue. As Balmes says, "Sometimes very little can be enough."