I love these autumnal days when the sun shines and the leaves show themselves off in their new golden and rust tones. Days that have been spent out in the forest with my son wading in the newly fallen leaves, picnicing with thermos' full of steaming hot soup and crispy gluten free pitta bread stuffed with veg and humus, exploring farmers markets and tasting all the free organic goodies and this weekend kayaking on a lake near here and lighting a huge fire on the other side to cook sausages and roast marshmallows. Heaven for all concerned.
On sunday i decided that the delicious baked apple that a friend had brought for pudding one night, needed to be used up. I did a quick search for an apple cake and found the wonderful
La Tartine Gourmande
blog with their delicious recipe for an
Apple and Olive Oil Cake
. It was moist and each piece was totally scrumptious. We kept ours in the fridge so that it would keep better, but it didn't survive more than a couple of days as we thought it was too delicious to let it rest for too long without taking another piece, and another and oh go on let's have another!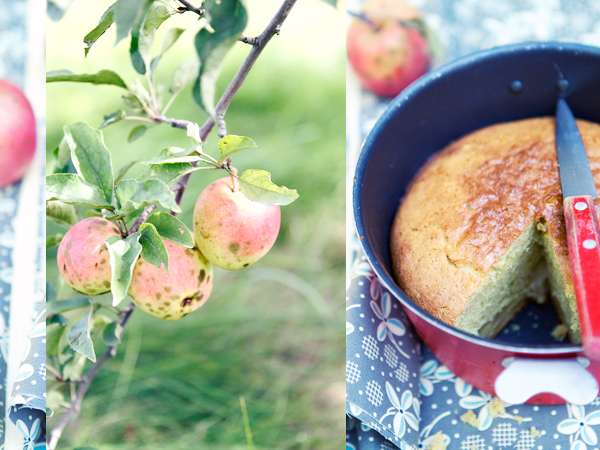 Apple and Olive Cake
•1 tablespoon unsalted butter/dairy free spread
•3 apples, peeled, cored and diced finely ( the more apples the moister the cake)
•1/2 cup blond cane sugar + 2 tablespoons for the apples (or 5 tablespoons honey/maple syrup)
•1 vanilla bean , split open and seeds scraped out (or 1 tsp vanilla essence)
•1 teaspoon finely chopped lemon thyme (optional)
•4 eggs
•Pinch of sea salt
•1/3 cup (80 ml) olive oil or vegetable oil
•100 g millet flour & brown rice flours*
•65 g (1/2 cup + 2 tablespoons) almond meal*
•40 g (1/3 cup) quinoa flour*
•2 teaspoons baking powder
*Or 200 g gluten free all-purpose flour replacing all the other flours and almond meal combined
•In a frying pan, heat 1 tablespoon butter over a medium heat. When warm, add the diced apples with 2 tablespoons sugar, the vanilla bean and seeds and cook for 5 minutes, or until the apples are softer. Discard the vanilla bean; set aside. (you can also add cinnamon sticks as desired but remember to take them out afterwards)
•Preheat the oven to 350 F. Butter a 10-inch mold and set aside.
•In a bowl, combine the flours and baking powder and lemon thyme, if using. In another bowl, beat the eggs with the sugar and a pinch of salt. Add the olive oil and and then the flours. Fold the apples into the cake batter. Transfer the batter to the mold and bake the cake for 35 to 40 minutes, or until a sharp knife inserted in the middle comes out dry. Let the cake cool for 5 minutes before unmolding.
Heavenly food for these autumnal days