Whether it's a cup of tea shared with a good friend or some serious time away it definately lifts ones spirits like nothing else and makes every day life good again. It sounds so obvious and it's really a relatively simple thing to do, but sometimes one forgets how needed it is. I'd been getting rather low recently because for some time now my husband has been working late almost every night and weekends too with this current project which has demanded so much from him and i have been home alone with my son who quite rightly just longs for his papa and mama sometimes just isn't good enough. So to remedy things i managed to get away at the weekend with my sister and some friends to Berlin. It is something i have almost never done, although not through lack of desire, but a girly weekend away now just seems an essential thing in life and it was so easy to do, when all the babysitting etc was put in place.
We flew to Berlin on friday night and were back home by sunday night, but despite it being quite a short time away it felt like a wonderful week packed into two days. We didn't do a massive amount or fret about seeing too many sights, instead we just revelled in spending time together, sleeping in late without a little person to wake one in the early hours and just doing what we felt like until it was just too late to keep our eyes open anymore, even though we would have liked to stay up longer.
We began well on saturday morning, in terms of sightseeing at least, by going to the atmospheric and visually striking blue church, nicknamed so because of the blue light created by the floor to ceiling blue stained glass mosaic cubes that make up each wall. The official name is the Kaiser Wilhelm memorial church on the Kurfürstendammand and it must easily be the most photogenic church in Berlin. It is a wonderful place to retreat to, to take a pause and contemplate things and to light a candle for someone or something. What is not obvious from the photos, but can be appreciated when seated in the church is that each of the blue glass squares is a little stained glass picture in itself. Different shades of blue, green and gold are incorporated in the design making subtle patches of glowing colour in the midnight blue which you start to appreciate as your eyes get used to the dark interior.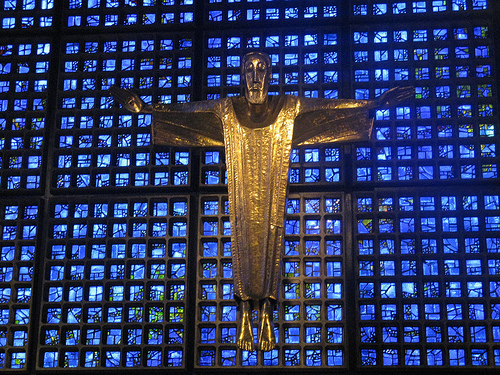 We were soon led by our tummies to a wonderful cafe called the Cafe Bilder Buch on Akazienstrasse in the Schoneberg area of Berlin, which we'd been told was one of the places to go for a famous Berlin brunch ....and it did not disappoint. Huge sofas welcomed us in this cosy retro style cafe and many pages of different style brunches were offered from which we had a lovely time choosing. We enjoyed it so much that we spent many hours there chatting, eating and drinking. Well when you are offered a glass of proseco with your brunch it's hard to refuse!
It was a glorious autumnal day- we shopped, we walked, we chatted and then we met the darling friend we were staying with at the Reichstag so that we could climb to the top of the cuppola and get great views over Berlin and see some of the light show/festival of lights that was happening in the Mittre/centre of Berlin that night.
The Reichstag
The Cuppola at the Reichstag
We walked back to the Kreuzberg area of Berlin where we were staying so that we could eat at a wonderful local known place which is typical of Berlin that served delicious German food, and along the way saw more sights with these wonderful light affects.
The Brandeburg Gate
Much later after some truly delicious food and fabulous company we finished the night in a local bar for Mohitos and chai lattes for me ( at seven months pregnant it was just what i felt like)
SUNDAY
The weather was pretty foul today but we headed to the Prenzlaurberg area of Berlin for the famous flea markets at the Mauer Park.
I love places like this because even if you have to sift through lots of rubbish there are usually some gems, even if it is just visually speaking.
We lunched in a cafe on the Kastanienallee that we were lucky to get into as every cafe we passed was packed with brunching Berliners on this wet, cold day and then spent our remaining hours wandering around the centre.
I didn't want it to end, but i know that another weekend like it can be planned, hopefully soon or as soon as possible bearing in mind that i can no longer fly and in january will have a new baby. Perhaps he will be an honourary guest! It was heavenly but i have to admit that it was also really good to get home and snuggle up with my boys again.