To me lanterns simply add a touch of magic to any occasion or place, they create a perfect atmosphere and they brighten up the winter for me, although i use them all year round because i love them.
I also love the idea of sending one's wishes off into the night with the help say of a floating lantern (like we did at several festivals that i went to when i was in India) or up into the sky on a flying lantern which have become so popular at weddings, and i can see why as they are sooo romantic. For my hen weekend my wonderful sister organised for us all to have these beautiful flying lanterns on which everyone wrote wishes for Andreas and i for our future life together. After many cocktails and much giggling over the messages we headed down to the beach below the house to send them off into the night, it was truly magical especially with so many being released at the same time! :
See
here
for a tutorial on making these flying paper lanterns and
here
for the world record set in 2009 for the largest number of flying lanterns released at any one time!
Lanterns are so romantic and can be a really cheap option to decorate any home or any venue for a party. A friend of mine made the most beautiful and unique lanterns for her wedding which we hung in the trees to light the way to the main tent and placed on each table to enjoy all night.
See
here
for how to make your own jar lanterns.
I am a sucker for almost any type of lantern and would like to have many more than i do inside as well as outside of our house to create that magical atmosphere and to welcome friends coming to the house. There are just so many lovely ones to choose from and so many possibilties when you make your own !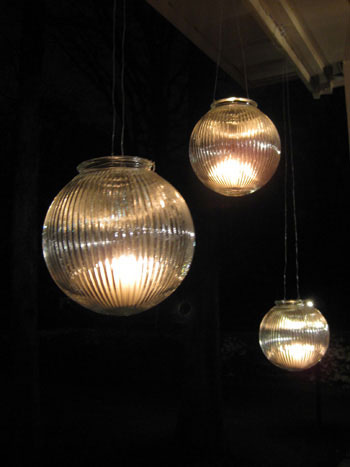 Lanterns are magical don't you think!